Toke Makinwa Admits To Being A Slay Queen And More
OAP Toke Makinwa has said that she's a slay queen but not the ordinary because she's the business type.
She stated this in reaction to the amazement fans expressed at a speech she delivered a Harvard Business School meeting.
See the screenshots below.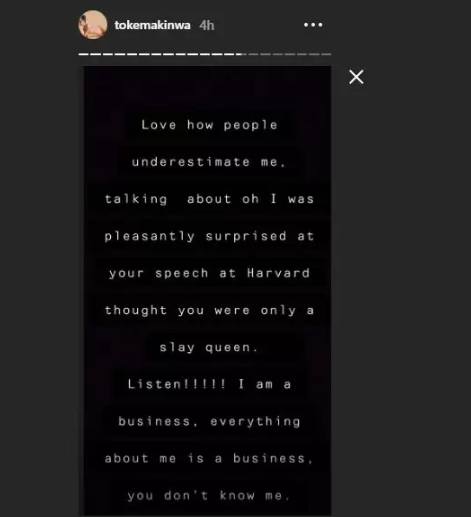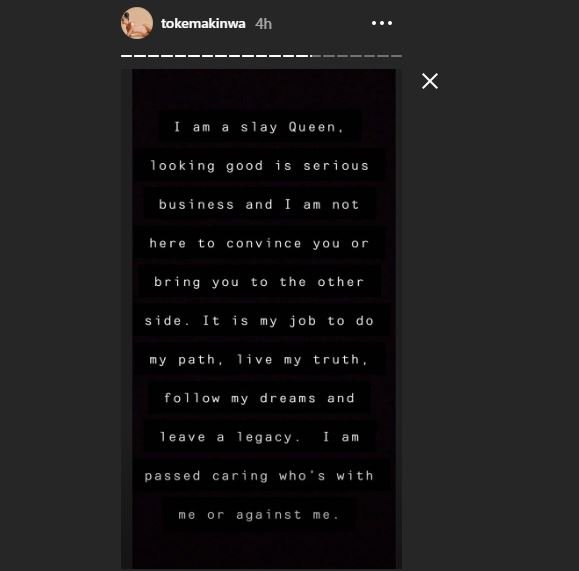 Recently, Toke Makinwa took to Twitter to slam religious people for their overbearing attitude towards others.
According to her, they need to stop their judgemental attitude because God doesn't need a personal assistant.
This comes just days after she was criticized for sharing pictures showing her camel toe.
Advising religious people to mind their business and leave others alone, Toke Makinwa tweeted:
"I can't stand over religious people if you've been saved, great! Let other people work our their salvation without your judgement. Work on remaining saved, leave we the struggling people alone, God loves us like that".
She added: "Set awon "holy pass" geng, na me know Jesus pass, on that day we shall all see who makes it to heaven, stop trying to figure out another person's spiritual journey, it's between them and God and last I checked God don't need no PA"